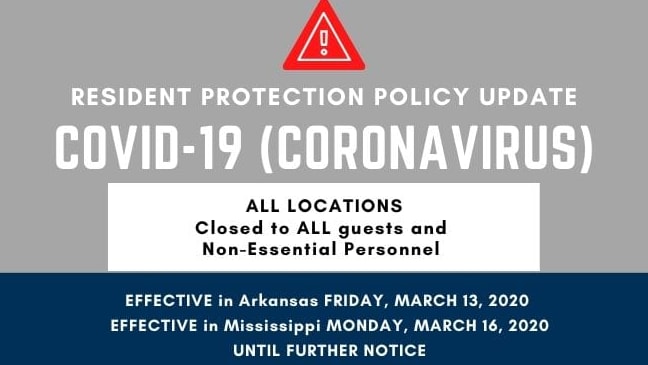 The path of COVID-19 (Coronavirus) is unpredictable and rapidly evolving. In order to ensure the best possible outcome in this situation, we are closed to all guests through April 13, 2020.
All Arkansas (Searcy, Springdale, and Clarksville) and Mississippi (Batesville, Cleveland, Grenada, and Senatobia) locations will be allowing only essential healthcare personnel until further notice. All guests and non-essential personnel will be restricted from entering the facilities.
We are following the advisement of the Arkansas Department of Health, the Mississippi Department of Health, as well as the Centers for Disease Control and Prevention. We will continue to adhere to any guidelines or adjustments they set forth.
All of us at Providence are working vigilantly to find the best ways to protect your loved ones. Our team is committed to not just the best possible outcome over the coming weeks or months, but also continuing to put our residents in a position to live their best lives in any situation. We are working out ways for residents to communicate with families through video chat. Please contact your local community administrator for more information. And remember to wash your hands!